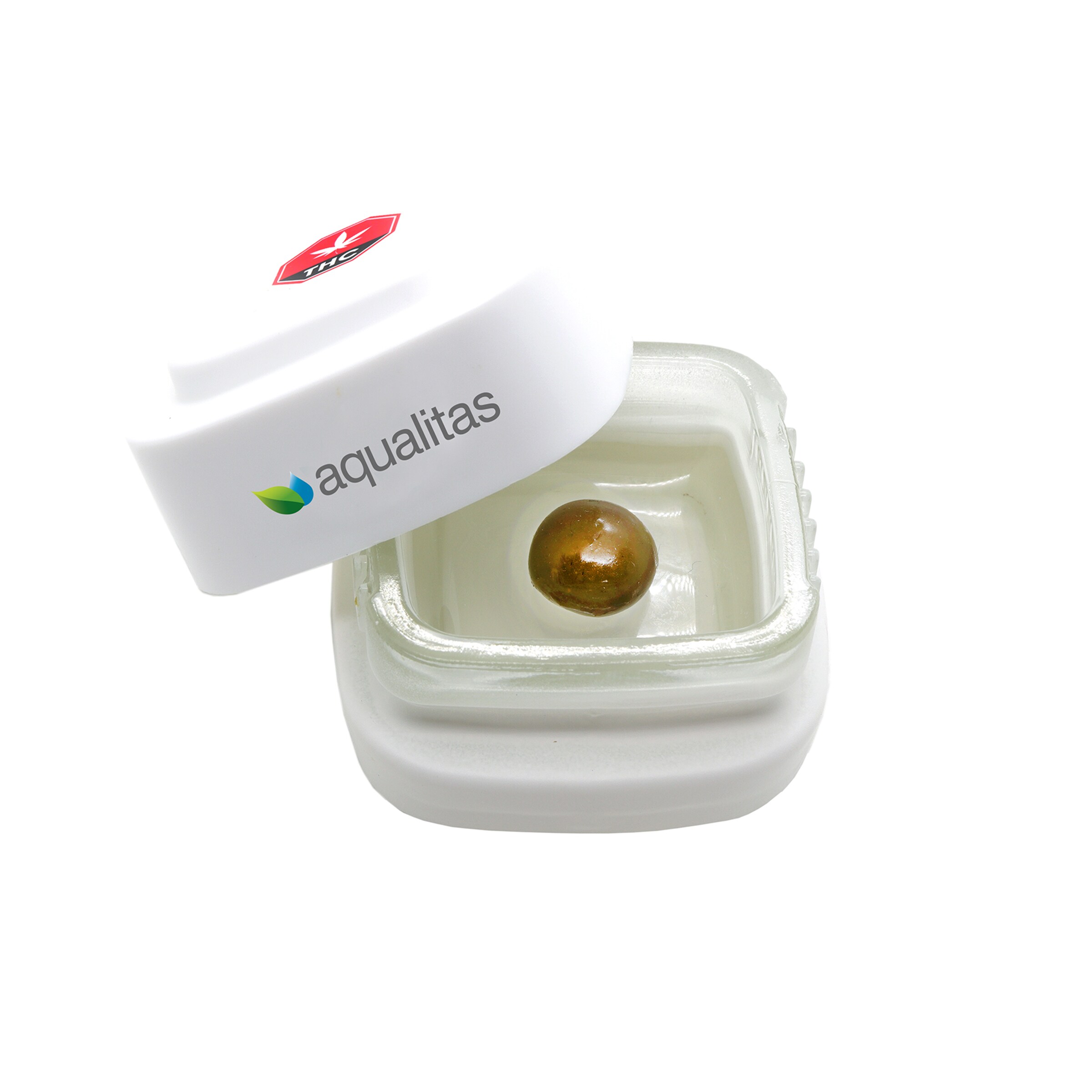 Cannabinoid Profile
$34.85
4g Medical Allotment Deduction
Ghost Train Haze Rosin from Aqualitas is a high THC cultivar-specific full spectrum solventless extract made from advanced mechanical and heat separation techniques without using water, gas, or chemical solvents. Each dab of this light caramel colour rosin is creamy but sticky in nature, melts well, and unleashes intense waves of thick citrus and pine aromas with earthy nuances and a fuel finish that produces a powerful long-lasting Sativa effect. The terpene content is almost 5%, and it's led by Terpinolene, Ocimene, Myrcene, amd Limonene. The experience is smooth, full-bodied and bold in flavour. All our products are sensory tested by actual humans and patients who love cannabis under our research license, before they make their way to you.

This product is intended for use with a vaporizer or rig designed for concentrates and extracts. This product can also be broken up into small pieces and carefully added to cannabis flower for consumption through a bong or mixed up with cannabis flower rolled into a traditional joint. Dosing should be done with your primary healthcare provider's careful supervision, like other prescription medications. Shoppers supports the Health Canada recommended "Start low and go slow" approach. Effects may vary on an individual basis. The product image and label are provided for illustrative purposes only. The potency and concentration of this product may vary by batch.
Concentrates
Cannabis concentrates include a variety of products that can be produced when the cannabis flower is processed into a concentrated liquid or solid form (such as cannabis oil, shatter and hash).
Sativa
Cannabis products labelled as "sativa" may cause less drowsiness than products labelled as "indica".
THC Dominant
Contains high THC content greater than 15% and may contain CBD
Questions & Answers
What symptoms can be managed with the use of medical cannabis?
Studies are ongoing to determine the effectiveness of cannabis in managing the symptoms of many conditions. Studies have shown that medical cannabis is commonly used by patients suffering from symptoms of various conditions, including anxiety, pain, inflammation, poor appetite, depression, sleep disorders, nausea, seizures and spasticity (the involuntary, continuous contractions of certain muscles).


How do I choose a medical cannabis product?
Your healthcare provider can help you choose the medical cannabis products that are right for you. If you need assistance, contact us via web chat, or give us a call and we'll be happy to help you.
What is a medical document?
A medical document is like a prescription for medical cannabis that a doctor (or in some provinces, nurse practitioner) issues to a patient. This document authorizes you access to purchase medical cannabis. Medical documents can be issued for a maximum period of 12 months, or shorter duration, at the discretion of your health care provider.
What medical cannabis products do you offer?
The Medical Cannabis by Pharmaprix™ platform carries a wide variety of different formats of medical cannabis to suit your unique needs. We are partnered with over 35 licensed producers to offer a large selection of medical cannabis products, including dried flowers, oils, soft gels, vapes, topicals (creams and gels), edibles and concentrates, along with a selection of accessories to help you utilize your medicine effectively.
Site Features
Pharmaprix Cannabis Care
Registered patients can access the Pharmaprix Cannabis Care team. Our specialized team of Cannabis Care Advisors is trained to help you select the products that are most appropriate for your needs.

For all inquiries, please contact Pharmaprix Cannabis Care toll-free at 1-844-633-2627.
Veteran Affairs Canada
The health and well-being of veterans are top priorities at Pharmaprix. We support Canadian veterans following the medical cannabis reimbursement policy from Veterans Affairs Canada (VAC).

More choice with one medical document
Access medical cannabis in Ontario and across Canada from multiple licensed producers using a single medical document.
Get Started