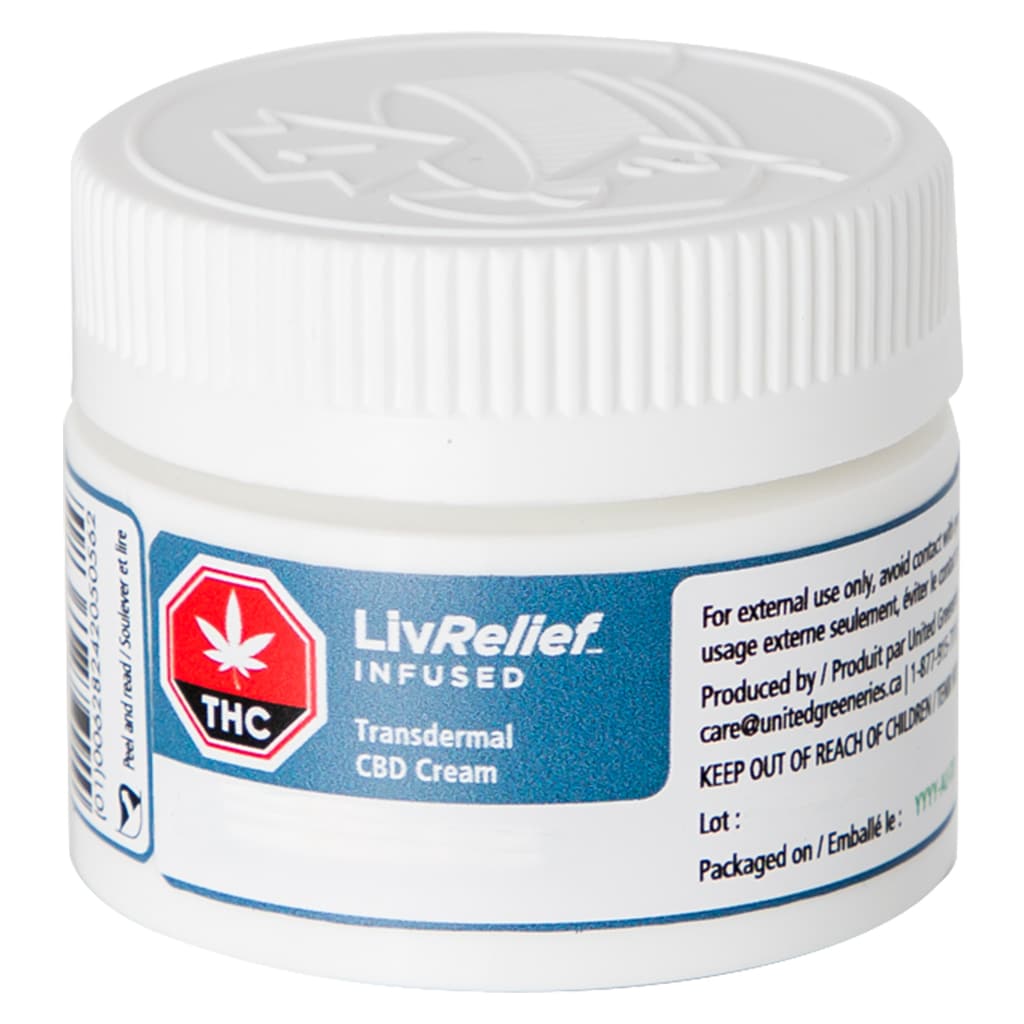 Cannabinoid Profile
$49.20
$61.50
7g Medical Allotment Deduction
This CBD Transdermal Cream Cannabis Topical from LivRelief is designed with Delivra technology, enabling deep penetration and skin absorption and controlled release of active ingredients directly to the target area. LivRelief's CBD Cannabis Topical 50g jar contains 250 mg of CBD and less than 10 mg of THC. Transdermal CBD cream topicals are a discreet way to use medical cannabis in Canada. They are plant-based and made using natural ingredients.

The product image and label are provided for illustrative purposes only. The potency and concentration of this medical cannabis cream product may vary by batch.

What is a transdermal CBD cream?

"Transdermal" means a medical ingredient enters the body through the dermis, or skin. With LivRelief transdermal CBD cream, the active medical ingredient is CBD. What makes this product special, just like all medical cannabis topicals sold on this platform, is that it's optimized for skin penetration. The upper skin layers are mostly made up of water, but cannabinoids like CBD are hydrophobic, meaning they do not mix with water. LivRelief transdermal CBD cream has undergone rigorous testing to help the cannabis medicine surpass the skin's upper layers, providing patients with a superior product that will help manage their symptoms.

How does a patient use transdermal CBD cream?

There's no learning curve to use a medical cannabis cream; just apply to the skin as directed, or as outlined by a healthcare provider. A transdermal cannabis cream is a good option for patients needing targeted therapy, such as joint, nerve, or muscle pain. Onset is generally within a few minutes and lasts about three hours.

Does medical cannabis cream have side effects?

There is minimal risk of overmedicating with any transdermal cannabis cream. Even though LivRelief transdermal CBD cream contains a small amount of THC, it won't generally cause intoxication or a "head high." Absorption through the skin avoids first-pass metabolism by the liver where most THC in the body is converted to its more intoxicating form, 11-hydroxy-THC. That being said, medical oversight is still recommended for topical medical cannabis patients as everyone's system reacts differently to cannabis. Because this is a topical product, patients with sensitivities or allergies should review this product's ingredients carefully to avoid anything that might cause irritation.

What could LivRelief transdermal CBD cream help manage?

Medical cannabis creams are most commonly used to help manage health conditions such as joint and muscle pain, eczema psoriasis, chronic neuropathic pain or itch, acne, dry skin, and lesions. LivRelief transdermal CBD cream is made with Delivra technology, enabling deep penetration and skin absorption and controlled release of active ingredients directly to the target area. This medical cannabis cream is also plant-based and made using natural ingredients. 

LivRelief is a well-known pain-cream brand, used by millions of customers across North America to fight pain quickly by penetrating directly at the source of the muscle, joint pain or nerve. The original version (without cannabis) is sold on Shoppers' shelves across Canada. 
Topicals
Topical cannabis products are infused with cannabis extracts and designed for external applications.
Hybrid
Combination of "sativa" and "indica". Produces a mixture of effects.
CBD Dominant
CBD-dominant products with THC levels that may be less than 2%
Questions & Answers
What symptoms can be managed with the use of medical cannabis?
Studies are ongoing to determine the effectiveness of cannabis in managing the symptoms of many conditions. Studies have shown that medical cannabis is commonly used by patients suffering from symptoms of various conditions, including anxiety, pain, inflammation, poor appetite, depression, sleep disorders, nausea, seizures and spasticity (the involuntary, continuous contractions of certain muscles).


How do I choose a medical cannabis product?
Your healthcare provider can help you choose the medical cannabis products that are right for you. If you need assistance, contact us via web chat, or give us a call and we'll be happy to help you.
What is a medical document?
A medical document is like a prescription for medical cannabis that a doctor (or in some provinces, nurse practitioner) issues to a patient. This document authorizes you access to purchase medical cannabis. Medical documents can be issued for a maximum period of 12 months, or shorter duration, at the discretion of your health care provider.
What medical cannabis products do you offer?
The Medical Cannabis by Pharmaprix™ platform carries a wide variety of different formats of medical cannabis to suit your unique needs. We are partnered with over 35 licensed producers to offer a large selection of medical cannabis products, including dried flowers, oils, soft gels, vapes, topicals (creams and gels), edibles and concentrates, along with a selection of accessories to help you utilize your medicine effectively.
Site Features
Pharmaprix Cannabis Care
Registered patients can access the Pharmaprix Cannabis Care team. Our specialized team of Cannabis Care Advisors is trained to help you select the products that are most appropriate for your needs.

For all inquiries, please contact Pharmaprix Cannabis Care toll-free at 1-844-633-2627.
Veteran Affairs Canada
The health and well-being of veterans are top priorities at Pharmaprix. We support Canadian veterans following the medical cannabis reimbursement policy from Veterans Affairs Canada (VAC).

More choice with one medical document
Access medical cannabis in Ontario and across Canada from multiple licensed producers using a single medical document.
Get Started